Given the increasing number of people who have dogs and the growing interest in spending time with their pets, there is a need for an application that can make it easier for dog owners to find suitable accommodations, activities, and restaurants that are welcoming to dogs. Such an application could consolidate in one place all the necessary information, providing a convenient and reliable resource for dog owners looking to spend quality

time

with their furry friends. Doggotrip will provide information about  travelling with dogs.
MY ROLE:
 Creating a concept, UX research and design, UI design 
TOOLS:
 Figma, Illustrator, Photoshop
Doggotrip is an application that consolidates in one place information about accommodation, trips, restaurants, and other things that dogs and their owners can do together in Israel. The application will promote dog welfare and human welfare, while also providing a source of additional income for vacation rental owners.

According to data from the National Center for Dog Registration in Veterinary Services at the Ministry of Agriculture (2022), 567,361 dogs were registered in 2021. This represents a significant potential market for investors.



While there are a few competitors in the field, such as booking.com, tiuli.com, and artza.org.il, which provide some information about dog-friendly trips and lodges, there is no centralized source of information. Additionally, some applications only provide information about accomodations, while others only cover trips. 
From a personality survey, it can be concluded that most dog owners want to take their dog with them. Some, like Tamar for example (see below), have difficulty parting with her pet and leaving it alone or with a stranger, while others, like Shai (see below), want to take their dog due to other family members, such as children. Centralizing the source of information will make the search more effective, which will be suitable for Shy. It will also be accessible for people like Tamar, who do not like using technology. As a result, the application will be easy to operate with clear filter options and a screen that is not overloaded with information. The application will gather reliable and unique information that may be difficult to find through other channels.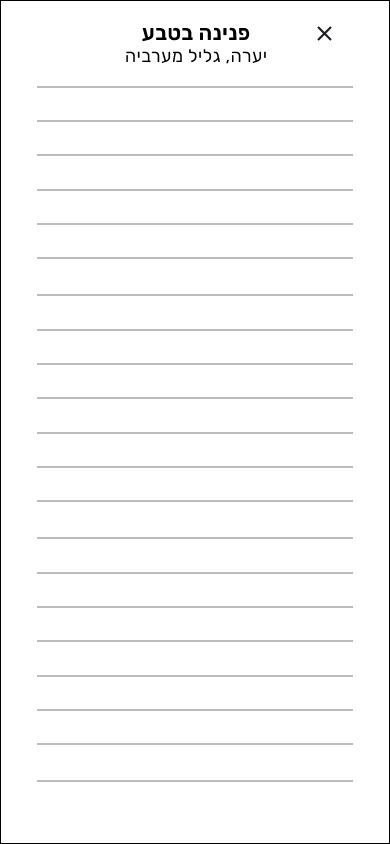 The biggest advantage of this application is that it is the

first application in the Israeli market

, a market with a high number of potential customers.